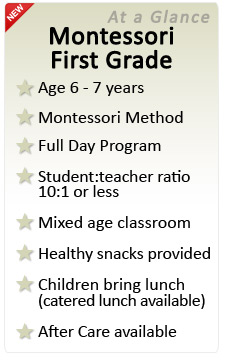 We recently extended our Montessori program to include First Grade.
When the families of a number of children in our Kindergarten program could not find the same quality of education conveniently available in their local grade school, they asked us to consider adding to our program.
Since a number of our teachers have experience and certification for Montessori Elementary education (ages 6 - 9), we simply added to our set of Montessori teaching materials to ensure the right level of challenge for 1st grade, and were ready to address the needs of children ages 6-7.
We treat the Kindergarten and 1st grade students as a unit, they move together through the day, including lunch.
The individualization embedded in the Montessori Method makes it natural and productive to have a class with children at many stages of development and mastery across a wide range of skills.
The older students benefit from this arrangement in three significant ways:
We employ Montessori methods and materials that keep them challenged and engaged.

They practice and can ultimately master their skills by helping younger students learn.

They learn and exhibit leadership.
Our Montessori 1st Grade program continues to build children's academic foundation in arithmetic, writing and reading, and gives them opportunities to develop these skills beyond the norm.
Through careful and comprehensive recordkeeping, teachers in the class know each child's level of mastery and give them lessons that are most timely and appropriate.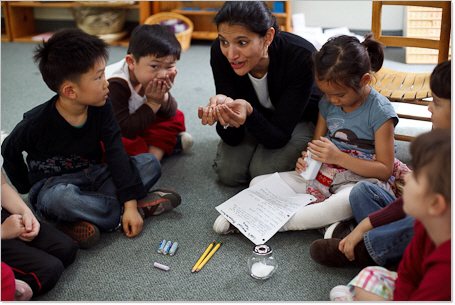 Students in our Montessori First Grade program also benefit from weekly programs in Spanish and Art, taught by specialists, and from several field trips throughout the year. Together with Kindergartners, they have taken field trips to Bergen PAC for plays and concerts, to Buehler Challenger Space Center, and to Tenafly Nature Center, among other places.