International Festival — October 8, 2022
We invite all our 2022-23 school families to participate in The Montessori House International Festival on Saturday, October 8.
Here are some of the many ways you and your family can participate (remember, the more families, the better):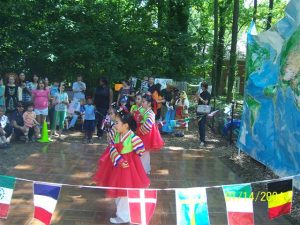 Booths:  School families create "booths" representing countries of their choice.  "Booths" can feature food, games, customs, clothing, and/or interesting facts from cultures around the world.  But don't let the word "booth" scare you; some of our most popular booths in the past have involved simple presentations, easy activities for the children, or foods from the represented country.  Families can make booths themselves or join with other families.  A booth can reflect your family's heritage, or simply a country or region that interests you.
Food:  We ask all families who attend to bring an ethnic dish of their choice.  This gives The Montessori House families yet another way to experience the great diversity that makes up our school.
Other volunteer opportunities:  The day of the Festival, we'll need help decorating the playground, setting up food tables and chairs, coordinating the food contributions as they arrive, and cleaning up when the festival ends.
What's next? 
It's time to start organizing the Festival.  We'll spend some time on Meet the Teachers Night (Tuesday, Sept 6, 7 p.m.) discussing the Fest, and will have another planning meeting after school (Thursday, Sept 8, 3:05 p.m.).  In addition, our families will receive a regular stream of emails with updates and volunteer opportunities.