Stargazing
Wanted to share this note from a Montessori House School parent …
Good morning Ms. Maria,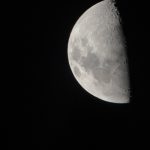 I wanted to tell you a story from our trip out to Utah this summer and the absolute joy I got to experience because of The Montessori House Enrichment Program. One night we participated in a stargazing experience with an expert that worked with NASA. Through a telescope we were able to see the moon, a number of different aged stars, Saturn and Jupiter. Throughout our evening, the guide kept asking us questions and our son M. was able to answer so many of them to the astonishment of not only the guide but my entire family as well.
In true M. fashion, he ended the experience a little upset that he was not able to see the rest of the planets, specifically Mars, but he survived.
The entire time I was filled with absolute gratitude for The Montessori House and the education that he has received these past few years and I cannot wait for everything he will get to learn this year.
See you in a few weeks — M's mother.