The Montessori House focuses on the education and development of children, not day care.
From ages 2-1/2 to 6, all Montessori House students enjoy the benefits of the Montessori Method.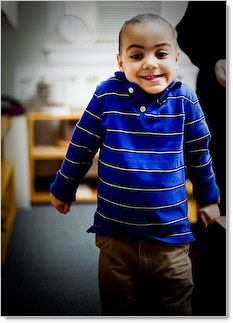 In our experience, younger children (under age 5) flourish in our Pre-Primary Montessori program, whether they come for a full day or a half day. All Pre-Primary Montessori students spend half the day together with our Kindergarten age children engaged with the classic Montessori works.

Children with us for the full day spend the other half of their day in our Montessori Enrichment classroom exclusively with other children in the Pre-Primary program. Here we engage children in both individual and small-group activities including science, art, strategic games, and cultural lessons, always following the child and allowing them to choose their works. Here we offer works intended to develop small-group social skills along with physical and cognitive development.

At mid-day, children in our full-day program have a one-hour break for rest time and to eat a lunch they pack from home. In addition, children enjoy a healthy snack and time on the playground in both the morning and the afternoon.


For older children (age 5 years by Oct 15), we offer our Montessori Kindergarten program, either for a full day or for an extended afternoon session. Montessori Kindergarten students devote their entire day to classic Montessori works in a mixed-age classroom that includes both their peers and younger students in our Pre-Primary Montessori program. During the break between our morning and afternoon sessions, full-day Kindergarten students are joined by half-day students for lunch and special Kindergarten projects.

Of course, Kindergarten students also have a snack and playground time both in the morning and the afternoon session. And, we usually take from 4 to 8 off-campus field trips with just the Kindergarten class -- such as Tenafly Nature Center for environmental science, Bergen PAC in Englewood for plays, NJ PAC in Newark for te NJ Symphony, and Center for Food Action in Englewood to give back to our community. |


All students can take advantage of our Before Care program and arrive at school as early as 7:30 a.m. for the school session that starts at 8:30 a.m.


All students who dismiss in the afternoon at 3 p.m. can take advantage of our After Care program and remain at the school as late as 6 p.m.


On most days from 3 pm to 4 pm, we also offer a range of optional After-School Instructional programs that meet weekly including, Beginner Chess, Chess Club, Singing Fun, Science Fun, Musical Theater, Art Club, Fitness Fun, and Reading Fun.


For Summer, we offer S+Camp (School + Camp), where we spend our mornings in the classroom and an extended period outside for lunch and play (including some time at The Beach).
The following table summarizes our Programs and scheduled sessions.
All are offered Monday - Friday. School Year programs are on a school schedule with the usual school holidays and breaks.
School Year

Ages

Schedule

Pre-Primary Montessori


Age 2.5 to 4 years
Full Day: 8:30 am to 3:00 pm
Half Day: 8:30 am to 12:00 pm


Montessori Kindergarten



Age 5 by Oct. 15

Full Day: 8:30 am to 3:00 pm
Half Day: 8:30 am to 12:00 pm


Before Care/After Care
Morning: 7:30 am to 8:30 am
Afternoon: 3:00 pm to 6:00 pm


After-School Instruction
Afternoon: 3:00 pm to 4:00 pm
optional classes offered weekly per schedule



Summer


Ages

Schedule
Summer S+Camp


Age 2.5 to 7 years


Full Day: 8:30 am to 3:00 pm



After Care
Afternoon: 3:00 pm to 6:00 pm