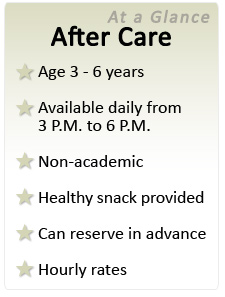 After the end of the school day, between the hours of 3:00 p.m. and 6:00 p.m., After Care provides a safe, supervised, familiar environment for the care of Montessori House children.
Parents count on After Care to provide a convenient, high-quality childcare option for both scheduled later pick-ups or for unscheduled emergencies.

Whenever possible, After Care takes children outside onto the playground. Otherwise, care is provided inside our building.
When inside, children play games, draw, read, sing, hear stories or rest.
Whether inside or outside, children receive a healthy snack between 3:00 p.m. and 4:00 p.m.
After Care is not an academic program: students do not access Montessori "works" or receive lessons during After Care.

After Care is only available for students scheduled to dismiss at 3:00 p.m.