There will be no 2019 Summer Camp at The Montessori House.
Parents regularly ask if they themselves are allowed to enroll in Montessori House Summer Camp along with their children. The reports they hear from their children -- and what they witness for themselves on our playground -- is so exciting, fun, and valuable, they wish they could experience it firsthand.
Summer Camp is a great opportunity for children to make new friends, be with friends, and have a great Montessori experience. And for students entering The Montessori House for the first time the following September, it's a fun way to become familiar with their new school.
We welcome all children ages 3 to 8 years by July 1, and younger children starting in a Pre-Primary program in September.
"It's Camp … NOT school!"
Montessori House Summer Camp features a different theme each week. Our Camp Counselors create a variety of experiences and activities based on that theme.
Here are some of our themes from past summers:
"20th Century Art: Picasso and Rockwell"
"Frog and Toad"
"Fitness"
"The Circus"
"Dance"
"Carnevale"
"The Olympics"
"The Farm"
"Bugs"
The emphasis is on experiential learning: on The Farm campers milk an ersatz cow; for 20th Century Art they dress up and pantomime Rockwell paintings; in Dance they hear music and learn dances from around the world.

Every day includes various themed activities and crafts, plenty of playtime, "The Beach" (water play in one of our sandboxes plus sprinklers and water toys) and lunch. Following lunch, the children gather for a brief time in circle to share conversation and songs with the counselors until it's time for pickup at 1:00 p.m.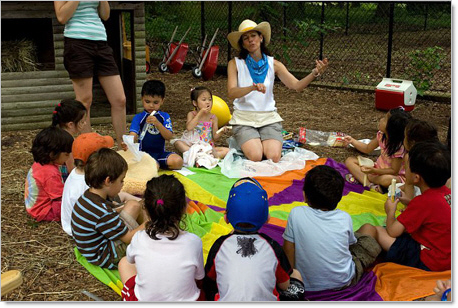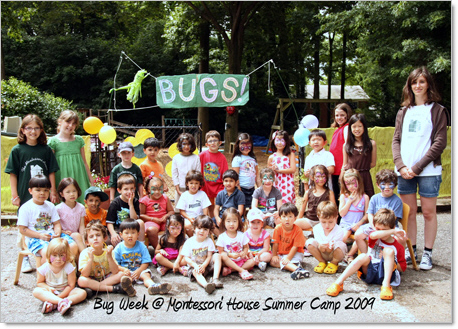 Although Camp is not school, all of the camp activities are created with the Montessori Method in mind; children have several thematic hands-on experiences to choose from each week. Summer Camp builds on the foundation of self-directed curiosity developed in the Montessori classroom

Roughly 30 campers attend Summer Camp. Children have plenty of supervision and help throughout the day, they are guided by two adult Senior Counselors, and experienced Junior Counselors.