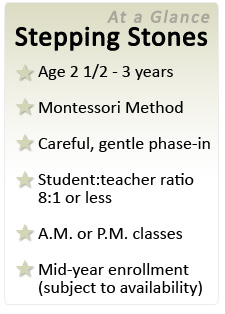 For the youngest children, Montessori Stepping Stones provides a wonderful first experience of school.
Montessori Stepping Stones builds the foundation for future learning and mastery using The Montessori Method. Your child will receive lots of attention with only eight (8) children in each class.
Through a carefully structured phase-in process, we minimize any separation anxiety for both children and their parents. The consequence: children develop a positive, affirming attitude about school.
Stepping Stones develops aspects of learning needed to foster the independence and curiosity emblematic of a Montessori child. One such aspect is the child's ability to exercise self-control and negotiate her surroundings -- in Montessori we call this Practical Life.
Montessori also emphasizes that children learn through their sensory experiences (they see, hear and feel the sound and shape of letters to build a foundation for reading and writing; they work on counting objects as a prelude to math) – in Montessori we call this Sensorial.

In the Stepping Stones classroom, much time is spent on Practical Life and Sensorial. Through carefully designed activities, and using special Montessori materials and processes, children quickly build a strong developmental foundation both academically and socially.
New for 2018-19: Full Day Montessori Stepping Stones
Parents now have the option to enroll their youngest children for a full day of learning and care in our Montessori Stepping Stones program. Enrolled children will participate in both the morning and afternoon session of our Stepping Stones program, with time for lunch and rest between 11:15 a.m. and 12:20 p.m.
Stepping Stones Early Session vs Late Session
Both our Stepping Stones sessions meet for 2-1/2 hours: Early 8:45 - 11:15 am, Late 12:20-2:50 pm.
You may want to consider the late Stepping Stones session, if it meets your schedule. Late session students benefit from a relaxed morning schedule, and parents find it convenient to have early afternoon available for errands, especially at businesses that don't open until 10 a.m. Even with school ending at 2:50 p.m., there's still time for an afternoon nap!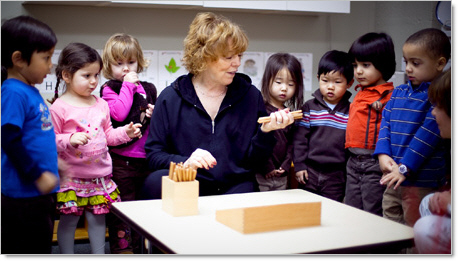 Stepping Stones Phase-in
Parents are enthusiastic about our deliberate and gentle "no-pressure" phase-in for the youngest children.
Phase I
We start with teacher home visits so that each child can get to know the teacher in a familiar environment.

Phase II
Following home visits, we meet five days a week for 1 to 2 weeks to achieve successful separation, starting with a short one-on-one classroom visit with child and parent. Parents then accompany children in the classroom for shorter sessions in groups of four or fewer. During these sessions most parents "phase out" of the classroom.

Phase III
By the late September, the entire class of eight children meets for 2 hours Monday through Wednesday.

Phase IV
By early October, classes meet for the full 2-1/2 hours , four days a week (Monday-Thursday), and keep that schedule until November.

Phase V
From the first full week of November, classes meet five days a week (Monday-Friday) until until the end of the school year.
Mid-Year Enrollment
We will admit Stepping Stones children mid-year, space available.
For example, for a child who turns 2-1/2 in January, we might start an individual phase-in the first week of January and move to five days per week in February. The child will be 3 by next September and then enter our Pre-Primary program.