ABOUT US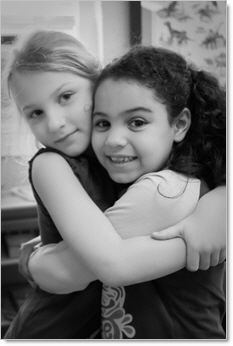 The Montessori House offers children a remarkable learning experience based on Maria Montessori's insights and materials.

Each year over 100 pupils participate in a rich variety of programs for children ages 2-1/2 to 6+, including half-day, full-day and after care options plus summer camp.
Our student-to-teacher ratio is
always

less than 10:1 in all our Montessori programs.

The Montessori House invites children into a remarkable environment.
Our classrooms are filled with sunlight and designed to support the Montessori Method. Here children can discover the secrets of language, reading, math, art, music and the wonders of the world around them.
Children love our spacious, shaded playground.
The Montessori House meets the exacting standards of a Member School of the American Montessori Society and exceeds the stringent requirements New Jersey sets for a stand-alone pre-school.
Any school can call itself Montessori (no one "owns" or regulates that term), even if it fails to effectively apply the Montessori Method in the classroom. Consequently, many so-called "Montessori" schools are anything but!
As an AMS Member School, you know
The Montessori House is a "true" Montessori school.
In addition to our effective application of the Montessori Method, we've listed below several aspects of The Montessori House that parents and children tell us stand out compared to other schools, even other Montessori schools:
Healthy snacks – daily delivery of wholesome foods, including fresh fruits and vegetables.
An exceptionally clean facility -- cleaned naturally, not chemically.
Member school of the American Montessori Society that exceeds their exacting standards for teacher credentialing.
Closed-circuit TV in all classrooms for parent observation and security. Parents are always welcome to come to school and observe -- no appointment needed.
Numerous opportunities for parent participation both in class and outside the classroom, including gardening and cooking with the children, library book reading with the assistance of your own child, or creating a booth for our International Festival.
Full-time office staff so that a live person can respond promptly to requests and emergency needs throughout the school day.
Low Student-to-Teacher ratio in all classes (less than 10:1 in our Montessori programs).
Sunlight-filled classrooms and a 10,000-sq.-foot playground in a park-like setting including a natural hedge tunnel, sandboxes, climbing tower, and children's garden.
Easy street access and ample parking.
A real community for kids and their families.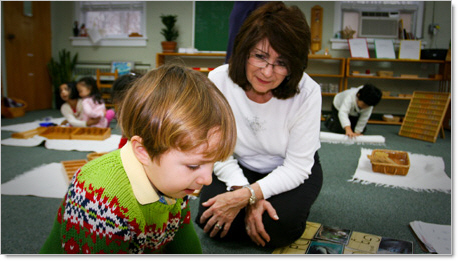 See For Yourself!
Seeing the children in action is the best way to learn how The Montessori House applies the Montessori Method and provides a productive, nurturing, and enriching environment for your child. Therefore, we invite you to tour our facilities and meet some of our teachers.
Prospective parents also are welcome to observe classroom sessions. Click here to self-schedule a tour, or please call or text us at (201) 816-8343 for an appointment.