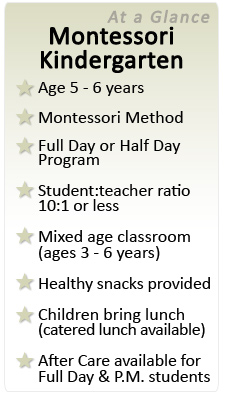 Each we have Montessori Kindergarten students who are: new to our school, new to Montessori, or have Kindergarten as their first school experience.
Whether a new Montessori House student or a returning student, by age 5 each has already been on a unique, personal journey of learning and development.
In the Montessori Kindergarten program, 5- and 6-year-old children continue their learning journey.
The individualization embedded in the Montessori Method makes it natural and productive to have a class with children at many stages of development and mastery across a wide range of skills.
Our Montessori Kindergarten program solidifies children's academic foundations in arithmetic, writing and reading, and gives them opportunities to develop these skills beyond the norm.
To do so requires self-control and the ability to both listen and concentrate, which are key to effective problem solving.
To that end, Montessori Kindergarten children continue to work in the areas of Practical Life, but might work on more complex tasks like following a recipe (as opposed to pouring water from a pitcher).
Through careful and comprehensive recordkeeping, teachers in the class know each child's level of mastery and give them lessons that are most timely and appropriate.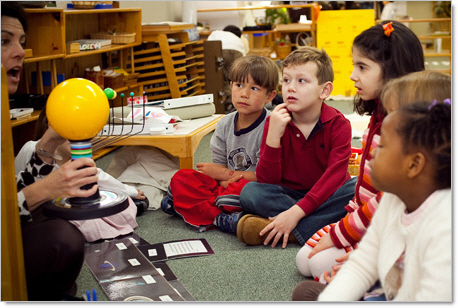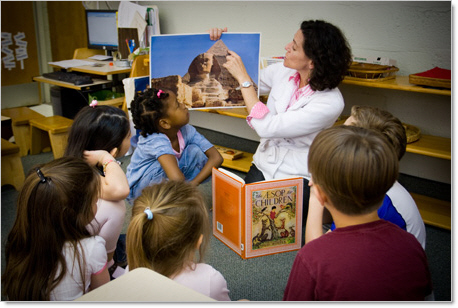 The Montessori Method employs mixed-age classes, usually with at least a 3-year age span. Our Montessori Kindergarten program is integrated with our Pre-Primary Montessori program.
Older students benefit from this arrangement in two significant ways:
They practice and can ultimately master their skills by helping younger students learn.
They learn and exhibit leadership.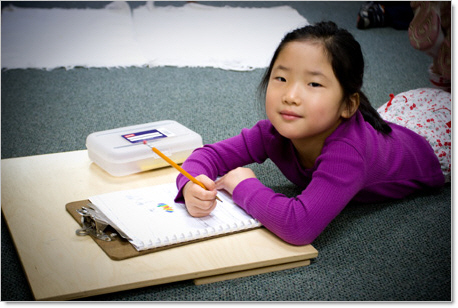 Students in our Montessori Kindergarten program also benefit from weekly programs in Art, and from several field trips throughout the year. Kindergartners have taken field trips to Bergen PAC for plays and concerts, to Buehler Challenger Space Center, and to Tenafly Nature Center, among other places.
Kindergarten Phase-in
For Montessori Kindergarteners new to the school, we employ a phase-in process that allows new students to come to school for one week before returning students join them.
This allows new students to acclimate to school in a smaller group and get to know the teachers and the school routines. It also gives our teachers a chance to get to know and more accurately assess new students with several days to observe and interact.