In the Pre-Primary Montessori program, children 2-1/2 to 4 years old engage in learning along many dimensions.

Whether coming from an infant/toddler Montessori program, or new to Montessori and new to school, the program emphasizes Practical Life (practical skills and enhancing fine and gross motor skills) and Sensorial (experiencing through the senses in a structured fashion) as foundations for learning academic skills.
Through individual and small-group lessons of 3 to 4 children, our Pre-Primary Montessori program provides children the foundation and opportunity to learn arithmetic, writing, reading, and other essential skills.
Under the guidance of credentialed Montessori teachers, each day each child chooses her or his own work – some may focus on letters and sounds, others on counting, others on practical life activities like sorting or pouring.
Through careful and comprehensive recordkeeping, teachers in the class know each child's level of mastery in each learning area and provide each child with lessons that are appropriate and timely for that specific child.

The Montessori Method employs mixed-age classes, usually with at least a 3-year age span. Our Pre-Primary Montessori program is integrated with our Montessori Kindergarten program in such a class, exposing younger students who are ready for more complex and challenging lessons and skills.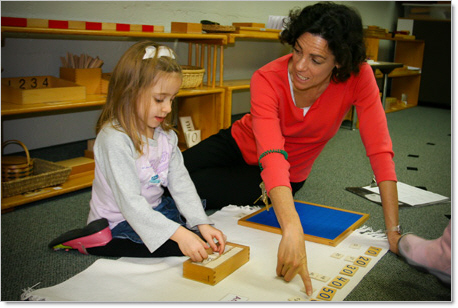 Full-Day Program vs Half-Day Program
Parenta often ask if we recommend a full-day or half-day program for their young child. Our answer is, It depends.. It depends on what your child is doing when not at school. At school we focus on the whole child. The Montessori Method provides a wonderful means of cognitive development (words and numbers) and develops effective personal habits (self-control, delayed gratification, patience, focus, respect, kindness). And, while younger children learn and develop quickly, they require time to cultivate other skills, to play, and to allow their Montessori experience to sink in.
Families who send their children to our half-day program need to be sure to provide opportunities outside school to cultivate those skills. Otherwise, familes may prefer to have their child stay with us the full day, because our full-day program does just that.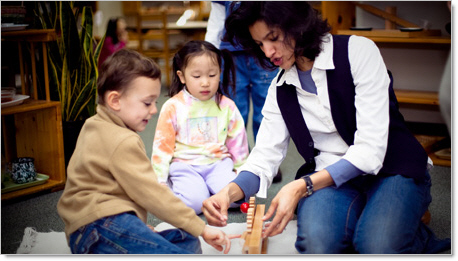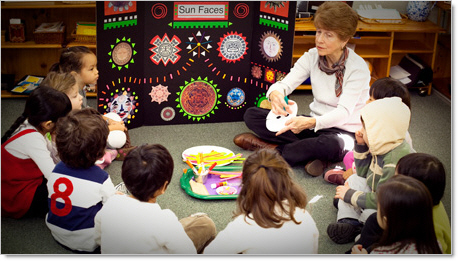 Phase-in for Pre-Primary Montessori
Most of our Pre-Primary Montessori students are new to school and new to Montessori. We employ a phase-in process that allows students new to the program to come to school for one week before returning students join them. This allows new students to acclimate to school in a smaller group and get to know the teachers and the school routines. It also gives our teachers a chance to get to know and more accurately assess new students with several days to observe and interact. On the first day, new students come to the classroom with one parent, to facilitate separation and for new parents to meet one another.