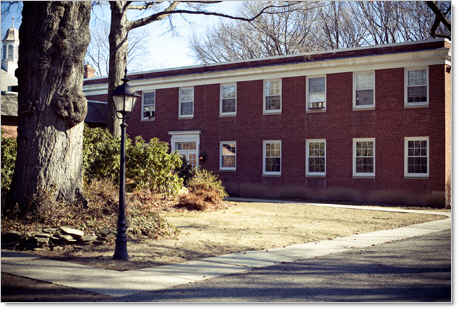 We are located just outside New York City, in Tenafly, New Jersey.
The Montessori House is housed in the former grammar school building of the Trinity Lutheran Church of Tenafly (no affiliation).
The over 3-acre campus has ample parking, but is notable for its mature hardwood trees and the 10,000 sq. foot, tree-shaded, fully-fenced playground.
The playground includes picnic benches, sandboxes, a hedge tunnel, flower garden, log cabin, and climbing tower. A dense layer of wood chips provide a soft-surface for children's safety.

Inside, The Montessori House occupies four 2nd-floor classrooms.
The South Classroom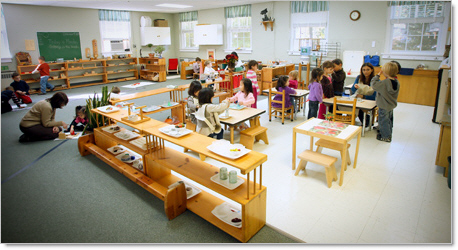 The East Classroom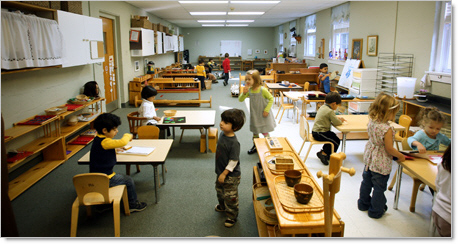 South Classroom Annex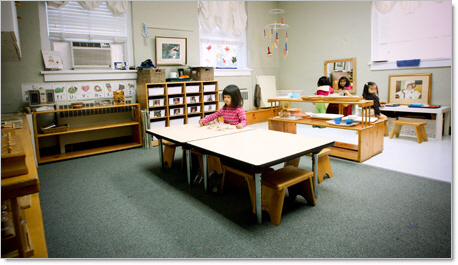 All classrooms are filled with natural light with a large number of windows providing a tree-filled view for the children.
Classrooms are carpeted to suppress noise and allow for comfortable floor work. A portion of each classroom has child-sized work tables on a linoleum floor. The walls of each classroom are lined with Montessori materials and Montessori "works".

Separate toilets for girls and boys are located in the hallway immediately outside the classrooms or inside the West Classroom.
Also in the hallway are shelves for lunches, hooks for jackets, and the lending library. Through a set of fire doors, the hallway leads to the 2nd floor vestibule and landing, where closed-circuit TV monitors are available for parent observation.